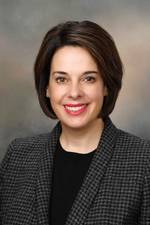 Contact Information
Office Phone:
515-232-6175
Email:
kate@friedrich-realty.com
About Me
Professional Accomplishments
I have 20+ years of corporate experience in the information technology recruitment field matching I.T. professionals to better career opportunities with global clients such as IBM and Toshiba. In 2019 I decided to transfer my skills to the real estate market and am capitalizing on my matchmaking experience pairing clients with homes that best suit their needs. I continue to carefully listen to and understand my client's ever-changing situations, market in the most efficient ways and correct channels, and negotiate the best outcome for each individual. It has always been my mission to work with my clients on an ongoing basis and not just for a single transaction. I am enjoying providing the same type of service to my real estate clients and can't wait to work with you!
Fun Facts
My husband and I are raising four wonderful children and have been married for over 20 years. I play the violin in the Central Iowa Symphony and love to run, try out new recipes, and spend time traveling with my family as much as our schedule allows. My husband attended Iowa State and most of his extended family live somewhere in Iowa. We lived in Parker, Colorado for 13 years before moving to Ames in 2013.
Education
I went to high school in the Bay Area and graduated from Whittier College in Southern California with a B.A. in Political Science.
Civic Volunteer and Activities
I serve as member of the Story County Hunger Collaboration which is a partnership lead by the United Way of Story County and many local food banks. The goal is to provide a platform of collaboration and partnership to reduce food insecurity in Story County. I'm also a member of the AOIFA board, the Ames Orchestra International Festival Association and a member of the board supporting the Ames History Museum.